Shopping Cart
Your Cart is Empty
Thank you for your business!
You should be receiving an order confirmation from Paypal shortly.
Exit Shopping Cart












YOUR AUTOMoTIVE CLEANING SPECIALIST
Wash & Wax Special - $99.00 was ($149.00)
Includes:
Exterior hand wash and dry
Carnuba wax
Vacuum
Clean glass
Degrease rims
Shine tires
Specializing in Fleet Washing, Car Dealerships, Commercial vehicles, Contract cleaning, Car Shows, Semis Trucks, Rv's, Boats, Motorcycles, Airplanes, Helicopters, Heavy equipment, Classics and Exotics.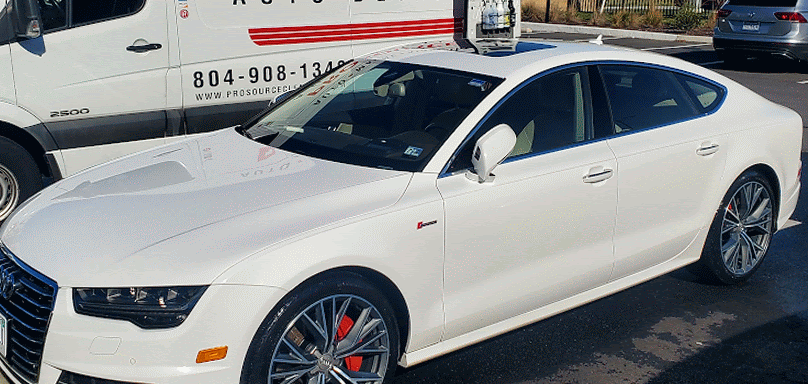 Exotic sports car detailing
Airplane and helicopter detailing
Heavy Equipment detailing
Interior shampoo leather cleaning and conditioning
RV and camper trailer detailing
Detailing and customizing shop
High speed buffing, waxing and polishing
Commercial vehicle fleet washing
Classic car show vehicle's
Mobile onsite vehicle detailing services
Vinyl wrap and lettering removal
Undercoating and sound deadening
3M PPF Paint Protection Film
Mobile onsite vehicle detailing services
Paint Correction (before & after)
Welcome to Pro Source Auto Detail

where you and your vehicle are our first priority! Based in Richmond, Virginia and serving the Virginia and Washington DC area. Established in 2004 and with over 20 years of experience!

We are your one stop shop for all your automotive detailing and paint protection needs! We range from your basic hand wash to full detailing and vehicle interior and exterior paint protection.
We're more than just detailing! From 3m PPF paint protection film, ceramic coating, touch up paint, brake caliper painting, spray on bedliners, Undercoating and more!
ProSource only uses professional grade products and filterd water for flawless results. We supply the water, electricity and supplies.
All vehicles are completely washed by hand.

We take pride in cleaning your car as if it were our own! All of our detailing technicians are professionally trained. Satisfaction is 100% guaranteed!
Established in 2004 and with over 20 years of professional detailing experience. We are known statewide for our first class services. We service all of the Virginia area and surrounding counties. Special rates and fees for out of state services. We go the extra mile when others don't. Our goal is to meet and exceed our customers expectations. We strive to be the best car detailing company on the east coast!
''Mobile detailing units on call 7 days a week!''
Click Here to Add a Title
''We take pride in cleaning your vehicle as if it were our own!''
''WE COME TO YOUR HOME OR OFFICE!''
Convenient detailing that comes to you! Why take or leave your prized possession to a car wash or detailing shop when you can have it come to you. We bring the shop to you no matter if you're at home or work. Our mobile detailing units are fully equipped to do a basic car wash or full reconditioning! We supply the water, electricity and supplies.
Here a​r​e the​ services we provide
Click this text to start editing. This block is a basic combination of a title and a paragraph. Use it to welcome visitors to your website, or explain a product or service without using an image. Try keeping the paragraph short and breaking off the text-only areas of your page to keep your website interesting to visitors.
Acid rain removal




Paint protection

Ceramic coating




Carpet cleaning




Leather cleaning




Headlight restoration




Vinyl/Sticker removal




Chrome polishing




Scratch removal

Steam cleaning

Aftermarket parts installation
Wet sanding




Fleet washing




Hand washing




Reconditioning




Mold and mildew remediation

Engine cleaning




Paint correction




Clay bar




Vinyl rap removal

Spray on bedliners

Sound deadening

Brake caliper painting

Touch up paint
Carpet dying




Machine buffing




Undercoating




Scotchguarding




Deodorizing




Rim reconditioning




Paint decontamination

Paint over spray removal




Artillery fungus removal

Paint protection film

3m clear bra
Click Here to Add a Title
Click this text to start editing. This block is great for showcasing a particular feature or aspect of your business. It could be a signature product, an image of your entire staff, an image or your physical location, etc. Double click the image to customize it.
10% Off Multiple Vehicle Car Wash Packages
/